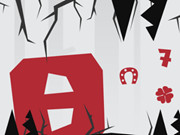 Triskaidekaphobia
---
Description :
Triskaidekaphobia is an HTML5 arcade game for all ages. The mouse clicks on the top and bottom of the screen to control the movement of the square. Obstacles come not only from the top to the bottom but come from the rear and need you to run fast enough. This game requires your quick response ability. Join in the game and test how many points you can get. Have fun playing the game Triskaidekaphobia!
Keywords :
skill, Obstacle, kids, HTML5, highscore, collecting, Boy, block, avoid, arcade,
Control :
Tap to screen to play the game.
Author :
nosite.com
---
Comments
Please login or register to post a comment