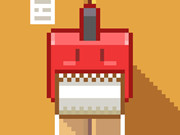 Tape It Up Online
---
Description :
Don't laze around, because we have so many boxes to wrap! Tape as many boxes as you can and be the best worker in the factory! You can collect coins to unlock various tapes and even boosts your performance with a power-up! Have a great time!
Keywords :
platform, Pixel, kids, HTML5, highscore, collecting, Boy, block, arcade, android
Control :
Mouse or tap to play.
Author :
kiz10.com
---
Comments
Please login or register to post a comment